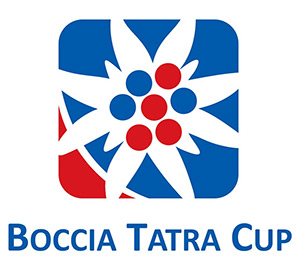 From
18 to 21 June 2021
, the 6th edition of the international boccia tournament -
Boccia Tatra Cup (BTC)
- took place in the sports hall of the Alexandra Wellness Hotel (
www.alexandrawellnesshotel.sk
) in Liptovský Ján. Boccia is a Paralympic, indoor sport, based on the principle of throwing balls to the target (jack), similar in its essence to pétanque or curling. The main organizer of the tournament was ZOM Prešov - a civic association of people with disabilities (
www.zompresov.sk
).
The BTC International Tournament in the category of individuals
is a friendly, non-scored, but high quality and prestigious tournament. The BTC 2021 Singles Tournament
took place 18-20 June 2021
. Players from the top of the world rankings as well as players from the national level took part in it. This year, a total of 44 players from 4 countries took part: Slovakia (17), Czech Republic (17), Croatia (7), Slovenia (3). All categories of players were represented in the tournament - from BC1 to BC4.
Four players from Poland were also registered for the tournament, but just before the tournament they were had to cancel their participation due to technical complications. Similarly, players from Hungary, who had shown great willingness to take part in the tournament, finally withdrew from participation due to the anti-pandemic rules that were in force in their country at that time.
Medallists:
BC1 – 1st Bašić Dora CRO, 2nd Sajdak Roman CZE, 3rd Cuřinová Kateřina CZE
BC2 – 1st Mezík Róbert SVK, 2nd Kreibichová Jiřina CZE, 3rd Minarech Peter SVK
BC3 – 1st Klohna Boris SVK, 2nd Peška Adam CZE, 3rd Čermáková Marcela CZE
BC4 – 1st Andrejčík Samuel SVK, 2nd Balcová Michaela SVK, 3rd Komar Davor CRO
Ranking of countries:
1st Slovakia (SVK) - (3-1-1), 1st Czech Republic (CZE) - (0-3-2), 3rd Croatia (CRO) - (1-0-1), 4th Slovenia (SLO) - (0-0-0).
The quality of the tournament is also evidenced by the participation of players who occupy
leading positions in the world ranking
, among them Tomáš Král SVK BC1 (4), Samuel Andrejčík SVK BC4 (6), Davor Komar (12), Adam Peška CZE BC3 (8), Róbert Mezík SVK BC2 (12).
The international pairs and teams tournament
took place
from 20 to 21 June 2021
. The BTC pairs and teams tournament was the first major pairs and teams tournament at international level in Slovakia since 2018 and the current 3rd year confirms the successful establishment of its tradition. In pairs - two against two - players of category BC3 (pairs BC3) and BC4 (pairs BC4) compete. In teams - three against three - players of category BC1 and BC2 compete (at least one player in the team must be of category BC1 and also one woman must be part of the team). 43 players from 4 countries took part in the tournament: Slovakia (17), Czech Republic (16), Croatia (7), Slovenia (3). Some pairs and teams were also made up of players from more than one country.
The winners in the category of
BC1/BC2
teams were:
1st Kurilák, Král, Kudláčová, Mezík, SVK/1 (KKKM)
2nd Blažková, Cuřinová, Petrák, Žabka, CZE/1 (BCPŽ)
3rd Bašić, Frković, Wagner, Turković, CRO (JDB)
The winners in the category of
BC3 pairs
were:
1st Peška, Čermáková, CZE (PČ)
2nd Klohna, Škvarnová, Tižo, SVK (KŠ)
The winners in the category of
BC4
pairs were:
1st Andrejčík, Balcová, SVK/1 (AB)
2nd Marsín, Procházka, CZE/2 (MP)
3rd Bajtek, Kaas, Chlouba, CZE/1 (BKCH)
The tradition of quality international tournament in our region
continues successfully. The international boccia tournament in Slovakia is becoming known not only in the neighbouring countries, but also in the wider area. Although the Slovak national boccia team is remarkably successful in the world boccia tournaments, most other Slovak boccia players do not get a chance to play with high quality foreign players. The same is true with foreign participants from the national level. For many boccia athletes, the opportunity to play with players other than those they are normally used to in national level competitions is a valuable and important experience.
The international tournament consisted of matches in the basic groups and subsequent elimination, final matches. The sports hall, which is connected to the hotel, is accessible and acceptably wheelchair-accessible. It was played on seven courts with a decking surface. Accommodation for participants and organizers was provided at the Alexandra Wellness Hotel in Liptovský Ján.
Despite the constant presence of the pandemic threat in our region, we managed to organize a safe social event where people could meet again after a long time of isolation and develop healthy social contacts. The tournament was attended by players of the Slovak national boccia team, for whom it will serve as a good stepping stone for the upcoming Paralympics in Tokyo after a long tournament break. At the end of the event, the participants were tested with antigen tests and the results of the tested persons were negative in every single case.
Referees:
Grega Matúš (H.R.), Andrejčíková Ľudmila, Kargerová Kateřina, Sabatula Rastislav, Kocúrová Kristína, Svat Ľubomír, Urban Csaba, Kondela Ľuboš, Křivan Robert, Lenártová Mária, Nosek Vladimír, Pagáč Martin, Jozef Fejerčák
Timekeepers:
Tomaško Martin, Tomašková Inga, Klohnová Tamara, Dvorščák Dominik, Lysáková Janka, Franeková Marcela, Franek Štefan, Mačová Anna, Bonk Marcel, Tatarko Ladislav, Varga Richard, Levčíková Paula, Kondela Filip
Service staff:
Fabiánová Mária, Baňasová Lucia, Tury Lukáš, Halzová Sylvia
Organiser:
Tournament Director: Boris Klohna
Tournament Technical Director: Mgr. Ondrej Bašták Ďurán
Sound system: Jozef Sirotňák
Graphic design:
PaedDr. Anna Mačová
Main supporter:
The project is co-financed by the governments of the Czech Republic, Hungary, Poland and Slovakia through Visegrad Grants from the international community of the Visegrad Fund. The mission of the Fund is to develop ideas to sustain regional cooperation in Central Europe.
Foreign partners of the project:
Sportovní club Jedličkova ústavu Praha, Česká Republika
FODISZ - Fogyatékosok Országos Diák-és Szabadidősport Szövetsége, Maďarsko
PROMETEUS - Stowarzyszenia Osób Niepełnosprawnych Ruchowo ich Rodzin i Przyjaciół, Poľsko
Event sponsors and partners:
• Žilina Self-Governing Region
• The Town of Liptovský Mikuláš
• Pictus – graphic studio
• Bashto Sports
• PRERAG, association - Prešov Development Agency
• St Crux Pharma, s.r.o.
• ART Troliga – advertisement production
• ARES, s.r.o – let's overcome barriers together
Contact:
ZOM Prešov - - civic association of people with disabilities (sports club), Karpatská 18, 080 01 Prešov, Slovakia,
www.zompresov.sk
,
This email address is being protected from spambots. You need JavaScript enabled to view it.
, +421517701499, +421908487603, +421904596079
Results:
BTC 2021 international boccia tournament individuals final results -
view
,
download
BTC 2021 international boccia tournament pairs and teams final results -
view
,
download
Photogallery